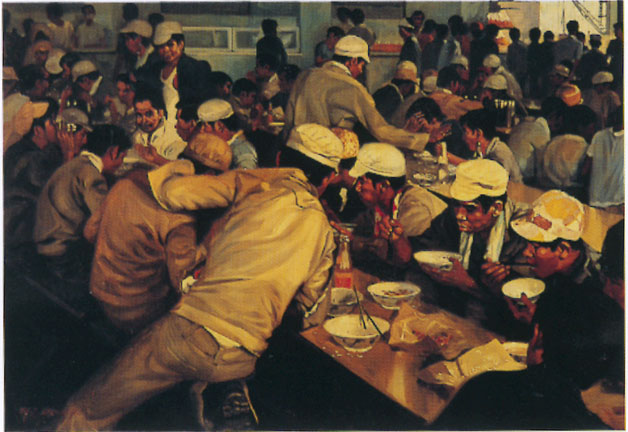 Chua Mia Tee ( Singapore ) - Workers in a Canteen ,1974 ,oil on canvas
About the Artist :
-
Born in Shantou, Guangdong Province, China in 1931
-I
n 1947, he enrolled in Chung Cheng High School but left school mid-way to pursue a formal arts education at the Nanyang Academy of Fine Arts (NAFA).
-
He received training in drawing, sketching with watercolour and painting, both with oils on canvas and with Chinese ink and colours on paper from NAFA director Lim Hak Tai and artists Cheong Soo Pieng, Koh Tong Leong and See Hiang To.
-Graduated from NAFA in 1952.
-Is one of Singapore's foremost realist painter. He is best known for his oil paintings which depict Singapore's vanishing traditional urban landscape. He is also a much sought-after portrait artist who has painted several prominent businessmen and politicians in Singapore, including Singapore's past and present presidents. National Language Class (1959) and Workers in the Canteen (1974) are two of his oft-discussed works.
-His drawings REFLECTS on life.
Workers in a Canteen :
Through the painting of the workers in the Jurong Shipyard, Chua Mia Tee aims to highlight and salute the contributions of the working class to the young nation's program of rapid industrialization and economical development. Such portrayal of the simple reality of the daily life of a blue-collar worker is the typical subject matter of Chua Mia Tee as a social realist, giving credit and recognition to the working class, in this case, the workers working in the Jurong Shipyard. Therefore, this painting holds much significance and nationalistic value.
Another example of his famous artwork :
Chua Mia Tee ( Singapore ) - National Language Class ,1950 ,oil on canvas